Original Link : https://creativeadvisormarketing.com/material-possessions/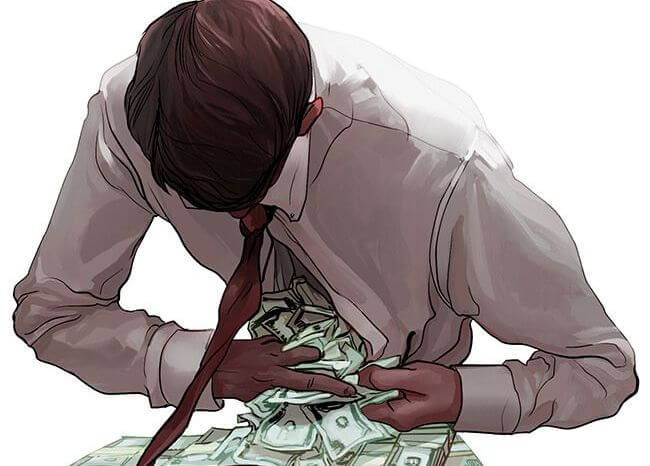 As fellow blogger Done by Forty pointed out in a comment he left on a recent post, the cool thing about personal finance is that the fundamentals are pretty simple. Once you understand them and put them into practice, it's amazing how fast you can improve your financial situation, build wealth, and be on the road to financial independence.
In case you missed it, the two basic concepts behind reaching financial security are 1. spending less and saving more, and 2. earning more and saving more.
I truly believe that cutting expenses and spending less is the easier of these two fundamentals, because you can make immediate progress starting right this second. Let's get real for a minute. How much stuff did you buy in the last month that you actually needed? And how much would you have saved if you cut the crap? What if you reduced what you spent on clothes, new stuff for your home, nights out, new toys from Best Buy, etc?
Would you be deprived? No. No one's asking you to live like a monk, only to cut back where you can. And would you save a whole lot with no effort? Yup.
That's just one example, and if you apply that across the board in all categories of spending you'd be amazed how much you suddenly have to save. It really is that simple. Reduce your unnecessary expenses. Get frugal. Enjoy free and low-cost hobbies. Value your relationships and the time spent with people you love over more material stuff.
Or is it that simple? I have to ask because almost no one in America lives this way. We are a nation of consumers. We love stuff; we can't get enough of the latest and greatest and we are obsessed with wearing, driving, or living in our money instead of saving and investing it. Nothing is ever enough. We must always have more.
Most of us are clearly driven by instant gratification. We have to have what we want, when we want it – which is, of course, now. When I've told people that I'm willing to work hard and maintain a frugal lifestyle for less than 10 years in order to have the freedom to do whatever I want because I don't have to worry about money after that point, they look at me like I have lobsters crawling out of my ears. (And if anyone got that reference, I request the highest of fives. Yes, I just made a reference inside a reference. BOOM.) You should live while you can! They exclaim. You only need to save between 5 and 10% of your income for retirement. Yeah, and be forced to work in a job I hate until I'm 70 because I couldn't handle putting away more of my income upfront? No thanks.
Why is the idea of working hard for less than 10 years crazier than the idea of living like a Dilbert cartoon for 40 years? Why on earth would anyone think I'm not living now?
I love the life I live. I don't feel like I'm missing out on anything, and I don't feel deprived. And I love being free of clutter and crap. I don't have stuff to worry about and I have so much more time to be productive, because I'm not distracted by things and gadgets and toys and whatever other material possessions that distract people from what's truly important in life. In fact, my life feels much more full, complete, and satisfying today than it ever did when I was obsessed with accumulating more stuff.
There is an absolutely perfect quote from Burton Malkiel's The Random Walk Guide To Investing that sums up what it's really like to live frugally:
"I DO TAKE GREAT FAMILY VACATIONS, GO TO DINNER A FEW TIMES A MONTH AND MOW MY OWN LAWN. I DO NOT DEPRIVE MYSELF OF ANYTHING I REALLY WANT. I JUST DON'T WANT THE LATEST THINGS THAT ARE BEING PEDDLED ON TV. BUYING THESE THINGS AT FULL PRICE WOULD ONLY MAKE A SUCKER OUT OF ME. THERE ARE THINGS YOU NEED, AND THINGS YOU WANT, AND IT'S OK TO TREAT YOURSELF BUT YOU MUST KEEP A STRONG GRIP ON WHAT YOU ARE BUYING AND WHY YOU ARE BUYING IT."
And I believe that's the key to realizing you can save massive amounts of your income: you simply need to kick your obsession with material possessions. I have never been happier than I have been since I reached the point where I stopped lusting after stuff, and focused on other, more important and valuable aspects of my life instead of thinking about what I had and what I needed to buy next. Another quote I found via The Random Walk Guide to Investing, right under the one from above, puts this point wonderfully: "For those obsessed with the accumulation of material things, La Rochefoucauld had it sized up in the seventeenth century: 'Before desiring something passionately, one should inquire into the happiness of the man who possesses it.'"
Here's what will happen when you do the same and quit endeavoring to acquire more things:
You'll find you suddenly have so much more time in your day when you have less stuff to worry about, less screens to glue your eyeballs to, and less shopping to do.
You will find more freedom. There are less material items to stress you out and drag you down. Rid yourself of clutter and rid yourself of a whole lot of anxiety, jealousy, and obligation.
You'll be happier when you stop associating your self-worth with how much stuff you have. You are so much more than your possessions.
You will start noticing things that you missed before. The little things will start to mean a whole lot, and it won't take much more than one simple, kind comment to make your whole day.
You'll realize that you can't take any of your stuff with you when you go. Suddenly, experiencing new stuff and developing amazing relationships with the people you care about will seem far more important.
Sounds pretty awesome, right? Who wouldn't want to improve their lives in this way?
Maybe the reason more people do not seek to put a stop the obsession over material possessions is because they simply don't understand how. Is that you? Are you in agreement with why you should strive to want for less (and live well on less, too), but aren't sure how to make that big mental leap to mindful spending and frugal living? Consider these tips to help you get started:
Be grateful. Take two minutes every day to marvel at everything wonderful in your life. Forget all the bad stuff, just for a moment – and focus on the good and the positive.
Seek new experiences. Many people use material possessions to make themselves feel better in some way. You can fulfill yourself through more meaningful action. Seek to experience and learn new things. Grow as an individual through what you have experienced, not what you can possess.
Cut the crap. If you like the quitting-cold-turkey method, start with the stuff you have. Go through your things and cull the junk mercilessly. If it's not useful or you don't have an extreme (and I mean extreme) sentimental attachment to it, throw it in to one of three piles: sell, give away, or trash. You will be amazed at how free and light and unburdened you feel once you get that crap out of your home.
Stop comparing yourself to others. This is really, really hard, but it's a crucial step you must not skip. The stuff you own does not define your worth as a person. You are so much more than the material possessions you can claim. Status symbols are pointless. The people who really love you and care about you won't give a damn about the stuff you have or don't have.
Focus on freedom. It's true that you can't take your money with you when you go – just like your stuff. But that's not an excuse to blow it now. Money can secure your freedom if you use it wisely. Save and invest and start now. The sooner you start, the sooner you will be financially free (thanks to the magic of compound interest).
If you're not convinced that you can start foregoing all those material possessions you think you have to have, just try it. For one month, try spending less on material stuff. Focus instead of bigger, more significant things: set goals. Learn something new. Create a new, productive habit. Do these things instead of filling your time and you life with material stuff.