Original Link : https://kelseyaida.com/theinspirationalblog/9-things-killing-your-ability-to-attract-wealth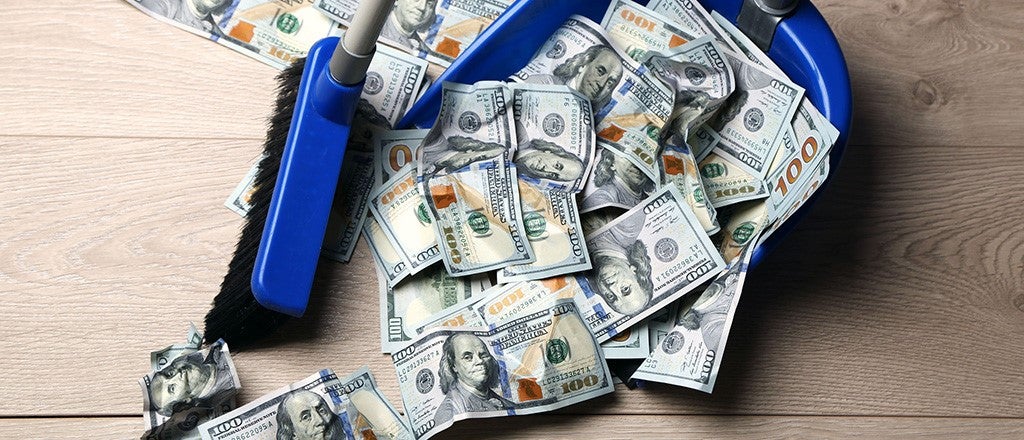 PART ONE (OF THREE)
From a law of attraction standpoint there are many things that could go wrong when trying to attract wealth.
For starters, how can you attract wealth if you don't feel wealthy? We will get there. Or what does moving clutter around have anything to do with making money? We will go there too.
In this three part series, I have identified nine major habits that totally kill your ability to attract wealth and a simple cure for each. Didn't think I would call you out and then leave you hanging, did you?
This article was broken up into three parts for two reasons. First, it was getting so long it started to look more like a chapter of a book than an article. And secondly, it will help the information become more easily digestible so you don't get overwhelmed.
If you find yourself guilty of one (or all) of these nine wealth killing habits, do not freak out. I repeat. Do not freak out.
Recognizing your mistakes is the first step to transforming them. Be gentle with yourself and apply the cures to the habits you feel are most prevalent in your behavior first.
Applying these cures will surely help you transform yourself into a wealth attracting magnet. So get ready and read on!
1. YOU HAVE A LACK MENTALITY
Are you always jealous of successful people? Do you constantly remind yourself how you can't afford things? Do you feel like there's just never enough money?
If you can relate to any of the above, you're stuck in a lack mentality. And you're not alone. Lack mentality is one of the most significant things that holds people back.
Lack mentality (otherwise know as scarcity or poverty mentality) is when you are constantly focused on the lack in your life and feel that money is a limited resource. And it will surely kill your flow of abundance faster than you can say "I'm broke!" (Which you probably always do if you're one of these people.)
When you practice a lack mentality you probably say things like "I hate living paycheck to paycheck," "The government takes all my money," or "Money goes out faster than it comes in." Sound familiar?
Luckily, a lack mentality is not something you have to live with! You can choose to think differently by simply changing your perception.
Lack mentality sneaks into peoples brains in many different forms so you have to pay very close attention to any negative or limiting thoughts you have around money.
For me, since I'm in the personal service industry, I always felt that my gain was someone else's loss, which lead me to behaving timidly when conversations around pricing came up. That was until I came across one of the best money attracting books of all time No B.S. Wealth Attraction for Entrepreneurs: The Ultimate, No Holds Barred, Kick Butt, Take No Prisoners Guide to Really Getting Rich where Dan Kennedy blew my mind when he said…
"If you believe it's limited then you believe each dollar you get came to you at someone else's expense; your gain another's loss. That makes your subconscious mind queasy… If you believe wealth is unlimited, there is no such thing as a share of it. Everybody's share is unlimited.. Your wealth is addition for you but subtraction for no one.
— Dan Kennedy
Boom! #mindblown
A very common lack mentality belief is that there is only so much money to go around. You feel like you only have a tiny slice of the money pie. But guess what. There's no pie! Completely disregard the popularly toxic phrase "fair share".
Everybody can eat as many pies as they want! There's an endless amount of money, especially when you consider that most money doesn't even exist physically. Most money is just a number that represents money. So as long as there are numbers, there are dollars.
THE CURE: MAKE EVERY BELIEF (NO MATTER HOW PREVALENT OR HIDDEN) THAT WEALTH IS LIMITED GO AWAY. ANYTHING THAT MAKES YOUR SUBCONSIOUS "QUEASY" HAS TO GO!
Find every shred of evidence you can to prove to yourself that money is an abundant resource. Open your eyes to the never-ending amount of dollars available to you at any time.
This may include separating yourself from people (often friends and family) who practice lack mentality, hanging out in fancy places so you can notice how much money there is around, subscribing to rich people magazines so you can see how much money people spend, and reading books that prove to you how unlimited money really is (Like Dan Kennedy's No B.S. Wealth Attraction).
2. YOU DON'T FEEL WORTHY
Why?! What makes someone more worthy than you exactly?
Is it their charming good looks, big business brains, or are they just plain "lucky"? I'll tell you that it's none of those things because unlike how you have lots of opinions about money, money has no opinions about you. It doesn't discriminate.
I've never fully understood this one because I've never struggled with a lack of confidence in the feeling worthy department (if anything my parents would say I feel pretty damn entitled), but I do know a LOT of people who do struggle and to those people I say this;
You are a sacred being who deserves to have whatever you can conjure up in your imagination. You are worthy of success, abundance and financial freedom. It is your divine right to live a full life of prosperity. Own it.
THE CURE: KNOW YOUR WORTH. DO WHATEVER YOU CAN TO RAISE YOUR SELF ESTEEM.
I like these simple affirmations…
"I CHOOSE TO FEEL GOOD ABOUT MYSELF STARTING NOW." TWEET IT
"I WILL NO LONGER WAIT TO BE 'PERFECT' IN ORDER TO LOVE MYSELF." TWEET IT
"I AM WORTHY OF ANYTHING THAT MAKES ME HAPPY BECAUSE EVERYBODY, INCLUDING ME, DESERVES TO BE HAPPY" TWEET IT
This article will also really help you if self esteem is an issue: The Truth of Who You Are.
3. YOUR FENG SHUI SUCKS
When it comes to wealth attraction clutter is the enemy!
If your wallet is old, falling apart, and full of trash I'm talking to you. Likewise if your office and bedroom are full of old things, piles of papers, and just general clutter, it's time to do some spring cleaning so wealth can begin to flow into your life.
Marie Diamond, Feng Shui Expert, says that your Feng Shui accounts for a whopping 33.3% of your attraction capabilities. So even if you're thinking and doing all the right things, your messy space could be holding your wealth attracting potential back by a whole third! That's why it's so imperative to create an inviting space for opportunities and abundance to flow into your life.
Feng Shui is very metaphorical. When your wallet is a mess you are sending a message to the Universe that you do not respect your money. Not only that, but a cluttered wallet full of old receipts and gift cards (that you'll never use) is not allowing any space for new money to flow in because it's already so jam packed with stuff!
Wouldn't you rather your wallet be full of money instead of junk? Exactly.
Basically, the Universe likes it when you have your shit together. When it comes to attracting financial abundance it's especially important to clear clutter and make space in your wallet, office, and bedroom.
Think about it, nobody wants to do business with someone who's office is a mess and uncomfortable to be in! And if your bedroom is cluttered your thoughts will be too. Which won't allow a good environment for breeding creativity, which is essential to making money.
THE CURE: CLEAN OUT YOUR WALLET, HOME AND OFFICE. MAKE THEM AS CLEAN AND SHINY AS CAN BE.
One of the simplest and easiest ways to attract wealth is to declutter your physical space. When you make space you create new space. Space for money making opportunities and ideas to flow into your experience.
A great success direction in Feng Shui is South East. In the South East area of your office place things that represent abundance. Golden objects, a bowl overflowing with coins, a small fountain, books about money, pictures of successful people, whatever symbolizes financial abundance for you.
If you think I'm kidding, I dare you to try it and then think again! It's not magic. It's the law of attraction (which is technically quantum physics).
If you want to declutter, but have trouble letting go of things this article will help: 8 Questions to Help You Declutter for Clarity.
That just about sums it up for part one. Continue to part two here!
Also, I encourage you to pick up a copy of No B.S. Wealth Attraction (I have placed a link below). It will seriously change your life so that you can change your mindset around money (especially if you struggle with lack mentality).
PART TWO (OF THREE)
This is the second piece of 9 Things That are Killing Your Ability to Attract Wealth. For a proper introduction you can find part one here, but basically these are a couple of habits that could be totally killing your ability to attract wealth.
4. YOU DON'T FEEL ABUNDANT
This is tied hand in hand to the lack mentality I mentioned in part one of this series.
If you don't feel abundant you will never have abundance because the law of attraction is always responding to how you think and feel (and is constantly giving you more of that).
If you feel poor, you will attract more experiences that make you feel poor. But if you feel abundant, you will attract more experiences that make you feel abundant. You catching my drift here?
The real question is though (and I'm sure you're already thinking it): How can I feel abundant if I have no abundance?! #frustrating
I know your pain, but I have a simple solution.
The reason we want wealth and financial abundance is because of the way we think it will make us feel. Having money makes people feel secure, safe, powerful, abundant… But in order to attract wealth into our experience we have to be a vibrational match to it.
Meaning you have to practice feeling the emotions of (or vibrate to the frequency of) security, safety, power, and abundance because that is going to attract wealth into your experience like a magnet!
Back to the question at hand about feeling abundant. Well, everybody has some sort of abundance in their life, maybe it's just not an abundance of money (yet). The best part is that you don't need money to feel abundant.
There's a ridiculously easy way to feel abundant without having any money. It's so easy even kindergarteners do it.
It's called gratitude.
Practicing gratitude is the fastest way to capture the feeling of abundance. Once you realize how much you already have to be grateful for you will instantly feel the abundance in your life. And if you can capture that sensation, you can harness it attract financial abundance.
Sometimes you just need to change your definition of abundance in order to capture the feeling you are looking for. Focus on the abundance in other areas of your life such as health, relationships, freedom, whatever it may be.
Think of it like highjacking your emotions so you can attract certain things with them. It works quite well.
THE CURE: LOOK FOR EVERY SINGLE THING YOU CAN BE THANKFUL FOR. START A GRATITUDE JOURNAL. BE THANKFUL EVERY DAY.
Only when you feel thankful will the Universe give you more to be thankful for. So show it that you notice and appreciate your blessings.
Also, stop complaining. Just give it up. Complaining will only attract more things to complain about as I'm sure you've already noticed by now.
5. YOU DON'T HAVE A VISION
"Know what you want and you'll generally get it.
— Napoleon Hill
When it comes to attracting wealth you have to be something that most people aren't. Specific.
Lets play a little game. I'm the Universe and you are… you.
You tell me you want more money. I hand you a dollar.
Congratulations, you have more money! Oh wait, you're not happy with just a dollar? Oh… you wanted like a lot more money? Thousands, millions… Well why didn't you say so?!
Technically, you would have more money, but you'd probably be kicking yourself for not having been more specific.
Well friends, that's how the Universe works. You say you want "more money" and then you go on with your life to find a lucky penny out on the street or, better yet, a twenty dollar bill all crumbled up in the pocket of you freshly washed jeans. Technically, that's more money that the Universe has delivered to you in response to your request.
How can you expect the Universe to take you seriously if you don't even know what you want?
You have to be very specific with the Universe about a couple of things when it comes to money; exactly how much you want, what you're gonna do to make it, and when you'll have it by. The Universe loves clarity, so get specific.
THE CURE: SPECIFY! DECIDE HOW MUCH MONEY YOU WILL RECEIVE (EVERY DAY, WEEK, MONTH, YEAR…) AND THEN FIGURE OUT WHAT YOU HAVE TO DO TO GET THERE.
I'll use myself (hairstylist) as an example. If I wanted to make $100,000 a year I would have to make $8,333.33 a month. In order to make $8,333.33 a month I would have to make $2,083.33 a week. In order to make $2,083.33 per week I would have to make $694.44 a day, three days a week (which is how much I currently work).
All I have to do to make $694.44 a day is take around 4-8 clients, just depends on what services they need and how much product I sell. As you can see, now I have broken down my goal into a daily actionable task. This is how to reverse engineer your goals so you can make them happen.
In this case, I want exactly $100,000 by the end of the year and I plan on getting it in exchange for making people look and feel awesome. This is a solid plan that the Universe can back me up on!
(If you need help getting clear about what you want so you can start aligning with it, be sure to download my free "Manifesting Cheat Sheet"! It will help you work wonders.)
6. YOU THINK RICH PEOPLE ARE ASS HOLES
When someone pulls up in a super nice sports car do you think "Psh! Show off…"?
If you think rich people are ass holes then guess what, you're never going to get rich. Wanna know why? Because subconsciously you don't want to be an ass hole so you will unknowingly push money away.
Your subconsious mind is a billion times more powerful than your conscious mind. This is why it is imperative to notice any negative beliefs or associations you have around money and then immediately change them. I talk more about changing your beliefs in How to Use Affirmations (Without Feeling Like a Liar), but I'm about to help you change some common ones below.
THE CURE: NOTICE YOUR NEGATIVE BELIEFS SURROUNDING MONEY AND CHANGE THEM ASAP.
For the record, here's a list of a bunch of super rich people who are not ass holes. In fact, they are wealthy because they have found a way help SO many people. If you haven't heard of some of them or experienced their work I highly recommend you check them out. Tony Robins, Joe Vitale, Oprah Winfrey (obviously), T Harv. Eker, Marie Forleo, Dale Partridge, Jack Canfield… the list goes on.
And here are some other common negative beliefs to watch out for.
Money is evil. Seriously? How can money be evil? It's literally a dirty piece of weird fabric paper with a picture of a dead person on it. George Bernad Shaw said it best when he put it this way, "Lack of money is the root of all evil." #amen
I have to have money to make money. Uh, no you don't. It's called "the internet".
Money doesn't grow on trees. Aka "money isn't easy to come by". Technically, it sorta does grow on trees since it's made out of paper… And also, you should just rid your vocabulary of the phrase "hard earned" because it really doesn't have to be that hard.
It's the economy. Every time you come up with excuses you throw away your personal power. More on this to come in part three.
Money corrupts people. Money only makes people more of who they are! If you are good now, you can do massively good things when you are wealthy because you'll supply the financial power.
I can't charge that much. Sure you can! As long as your providing more value than anyone else to your customers, you can charge more than anyone else too.
Those a just a few (out of about a billion) of examples, but I think you're starting to get the idea. Change your perspective, change your life.
PART THREE (OF THREE)
This is the grande finale to the three part series 9 Things That are Killing Your Ability to Attract Wealth! If you missed parts one and two be sure to read those first.
Alrighty. Let's get to it!
7. YOU'RE NOT A GIVER.
Do you leave bad tips at restaurants? Do you say you'll start donating to your favorite charity once you have more money to donate?
If so, then you are not much of a giver. And if you don't give now, you will never give when you have more, let's get real. If you don't give a dime of your dollar, you won't give a thousand out of ten thousand (or whatever number you choose).
The point is… the Universe loves givers. And if you do give (and enjoy doing so) the Universe will give you more to give! Like Anne Frank said, "No one has ever become poor by giving."
YOU CAN'T OUT-GIVE THE UNIVERSE. TWEET IT
THE CURE: GIVE! IF YOU GIVE, YOU WILL RECEIVE.
Some call it karma. I call it good old law of attraction working its energetic magic.
When you give to others you are showing yourself and the Universe that you have so much money that you even have extra to just give away whenever you please! It feels good, and feeling good is the fastest way to attract more good feeling things (like money) into your life experience.
Practice donating 10% of your income to charity every month. If you're thinking you can't afford to do it, that's just your lack mentality sneaking in again. If the government made you pay an extra 10% more in taxes you would find a way to make it work right? So just make it work and the benefits will be well worth the investment. (I'm not implying that you should only give to get, but it sure does help!)
8. YOU MAKE EXCUSES.
"There are no victims. Only volunteers.
— Lee Milteer
Do you feel like life is always happening to you instead of for you? Do you always blame your life circumstances on someone or something outside of yourself? Do you feel like it's you against the world?
If you answered yes to any of the above you are playing the victim. You feel like your life is outside of your control.
The good news is that it's actually not! Luckily your life is your masterpiece. You don't have to be a victim, you can choose to be the creator instead!
You, and you alone, are the creator of your own reality whether you realize it or not. Every time you play the victim or make excuses you are throwing your personal power away!
TAKE RESPONSIBILITY, RECLAIM YOUR POWER. TWEET IT
Now I'm not saying anything is necessarily your fault or that you created certain things on purpose, but what I am saying is that by taking responsibility for your life you can change things for the better, instead of letting life walk all over you. Doesn't that feel good? Knowing it's all in your hands… (I know it sure does for me since I'm what they call a "control freak". Although, I prefer the term control enthusiast.)
THE CURE: CLAIM YOUR RESPONSIBILITY AND OWN YOUR POWER. YOUR WILLINGNESS TO TAKE ON RESPONSIBILITY WILL BRING YOU WEALTH.
Every time you catch yourself making an excuse put a dollar in the excuse jar. When it's full you have to give it away. It's the perfect analogy of how when you use excuses you lose your dough. Literally.
9. YOU'RE WAITING TO WIN THE LOTTO.
If you place a lot of attention on acquiring money by winning it you will most likely never have it. There are two major problems with this.
1. As we all know, chances of winning are slim to none.
2. You're literally betting against yourself.
When you think your riches are going to be handed to you by fluke chance you are affirming to the Universe, "I cannot create my own wealth and I don't deserve to have good things in my life except by freak accident."
Talk about not believing in yourself! That is not the kind of message you want to be sending out.
THE CURE: BELIEVE IN YOURSELF! YOU DON'T NEED THE LOTTO TO BE RICH.
Instead of banking on winning the lottery how about you bank on yourself!
You have drive, talent, and determination. Put them to good use and make something amazing of this lifetime.
Don't leave it up to chance. You got this!
Besides, most people who win end up losing it all anyway. Or even worse, they become more in debt than they were before winning because their mental "money blueprint" never changed. If somebody with a poor person mindset wins the lotto they will always become poor again because they are not in alignment with wealth. It all stats from within.
This is an inspirational blog so let's summarize by reviewing what we should do differently to start attracting wealth today! Here are the nine cures.
1. Change your beliefs.
2. Know that you are worthy.
3. Clean your wallet, home, and office.
4. Practice gratitude.
5. Be specific.
6. Change your perspective.
7. Give, give, give!
8. Take responsibility.
9. Believe in yourself.
(Helpful Hint: Download my free "Manifesting Cheat Sheet" to help you with some of these tasks so you can get to manifesting those dollars ASAP.)
Basically, if you're having trouble with money take a look within. You'll be amazed how much your focus and perspective are affecting your physical reality.
I wanted to write about money not because it's the end all be all of life, but because money buys us the most important resource of all, time. The more money we can attract into our experience, the less time we have to spend making it. This means more time to spend with family and friends, more time to explore the world and read books, more time to live and be free!
Financial freedom is something many will dream of and only some will achieve. I sincerely hope this article sheds light on some of your personal habits that are hindering your ability to attract wealth so you can create simple shifts for radical change.
P.S. If you gained any value from this article or would like to read the other parts as well I would recommend you download the full article so you can come back to it whenever you need a little money mindset pick-me-up.